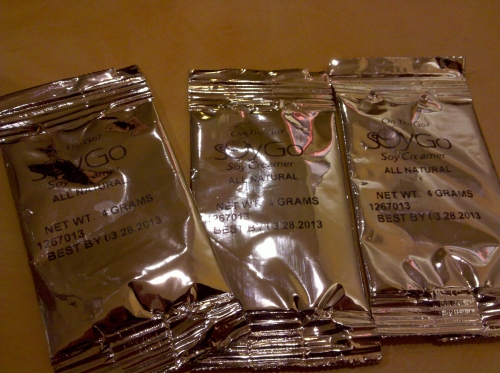 A few months ago I wrote an article on SoyGo coffee creamer. SoyGo is a soy-based coffee creamer in a convenient packet that is easily taken with you so when you find yourself in one of those coffeeshops (or Panera, ahem) that doesn't offer a soy alternative to the dairy on the condiment bar you can whip one of these out and fancify your brew. While the original formula had good intentions, I felt it missed the mark a little. SoyGo has now revamped their formula to address some of the concerns I had, though honestly I'm sure it wasn't BECAUSE of me. I just like to think I have that power.
The new SoyGo still comes in the same small packets but now the amount has been increased from 3.5 ounces to 4 ounces. This addresses one of my issues where there seemed there wasn't enough creamer to sufficiently give flavor to a full cup.  The powder also seems to blend a little better. While it still needs a vigorous stir a hand blender is not in order. Also, you will still find a little residue at the bottom of the cup but unlike before you'll not be able to dry it out and return the SoyGo to the packet. It does actually dissolve now.
These are excellent to carry with you on your travels or just keep a few in your car as I do.
SoyGo is available at Whole Foods and Amazon or you can order directly from their website.