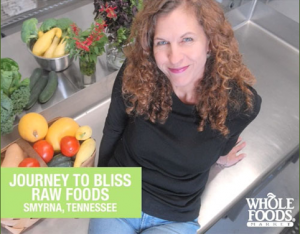 If you are a raw foodie or aspiring to be a raw foodie there is an event coming up that might draw your interest. Laura Button of Journey to Bliss Raw Foods will be presenting a workshop at Whole Foods Market in Green Hills. Here's your chance to shred the carrots, chop the kale and pulverize some beets as well as many other fresh raw veggies with one of the foremost authorities on raw foods. If you have tried any of the Journey To Bliss items before you know how delicious they are.
FREE Raw Foods Workshop
Sunday February 28th
2-3 pm Salud! Cooking School
Whole Foods Market Green Hills
4021 Hillsboro Pike
Nashville, TN 37215
615-440-5100
To register, email: brittany.conner@wholefoods.com
Making Food the Center of Your Life:
In this experiential workshop, we will learn a simple process for making
delicious food from fresh, raw, organic and ethically obtained
ingredients. This course will allow you to enjoy the bounty of each
season without the stress of following recipes. Just a few easy
techniques and you will be able to enjoy really nourishing, fast food.
We will learn why our food choices matter – for our individual health,
our communities, and our planet. Come hungry, and feast on the best food
on Earth.