Egg Nog. I once guzzled that stuff by the carton this time of year. I'm a nog lover. A connoisseur of the nog. AficioNOGdo. If your nog is off then I'll know it. I'm on top of the nog. Etcetera etcetera… Let's not think about the sugar and fat content in a glass of that drinkable pudding. I think it's very tasty but of course since the vegan switch years ago egg nog has been off limits. Silk has had their variant on the shelves this time of year for a few seasons and now were confronted with other entries in this holiday guzzle-fest. I welcome them all but only want the one that tastes best and can hold up, as in coat the side of the glass, like a true nog should. No thin watery stuff. Nog should to be thick.
Looking on the shelves in the cold section of the grocery store this season I was greeted by the usual entry by Silk, a good standby when you just have to have the nog  but I also found some new ones. So Delicious has a coconut milk version of nog and Earth Balance has their own nog as well. One I was surprised to find is Rice Dream Nog. You won't find this one in the refrigerated section, it's in a septic pack.
I have four choices now for my nog fix and a decison needs to be made as to the best vegan nog available.  The best way to make such a decision and not be skewed is a blind taste test, Pepsi Challenge style. Four glasses blindly filled and letters corresponding to each nog placed in front of each glass. With paper in hand for notes on each nog this nog tasting was ready to get serious.
Tasting was not limited to just me.  Mrs. Nashveggie and The Kid also participated. Mrs Nashveggie is not the most avid nog fan and it shows in her opinions but it's still good to get such an objective view included. The Kid, on the other hand, likes most anything sweet.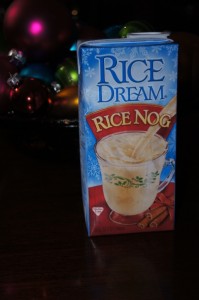 A – Rice Dream $2.99/32oz
My first thought when seeing Rice Dream Rice Nog is it's not supposed to be pink! Getting past the pinkness and tasting this overly watery drink left little flavor. There are what appears to be spices in the bottom of the glass so that's a plus but the only one. Pink, watery, bland.  F
Mrs. Nashveggie: Too pink! I don't want to taste it… Sweet and chalky.
The Kid: It tastes good.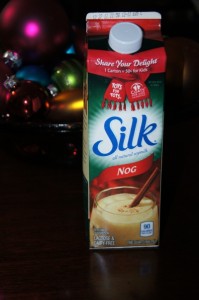 B – Silk Nog $2.69/32oz
I've tried this one before but it was still a little hard to pick out from the four. As a usual standby in recent years when I've had the urge for some nog it has stood up well. Being critical though, I could point out flaws as well as high points. Silk Nog has a good flavor. There's nutmeg flavor you can pick out that should be there though the one flaw that makes this one fall is its consistency. While not as thin as Rice Nog it definitely could stand to be a little less runny.  B
Mrs. Nashveggie: Did you put something in this? Smells like yogurt. Tastes like rum.
The Kid: I like this one. I think it's my favorite.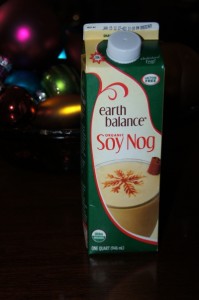 C – Earth Balance Soy Nog $2.69/32oz
Earth Balance is known for their vegan butter substitutes but lately they have branched out into other endeavors such as mayonnaise and,  more-notably, soy milk. Their seasonal offering of Soy Nog is likely my favorite of the four. It does have a good consistency and could hold up to a brandy, if that's what you like. The flavor is a little lighter than I prefer but overall this is a good choice.  A-
Mrs. Nashveggie: Gagged. Too thick.
The Kid: It tastes a little sour. Just a little sweet.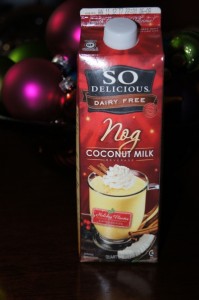 D – So Delicious Coconut Nog  $2.99/32oz
I'm no fan of coconut milk beverages. I find them generally fatty tasting and off-putting. I do like coconut but everything has its place and coconut milk isn't meant to be swilled like a bottle of cheap malt liquor. With that said So Delicious Coconut Nog had the expected consistency. Thick and rich and that works here. It has that right but that about the only thing. I thought I was drinking liquid candy! So sweet! My teeth hurt after drinking this. I couldn't taste any spice, if there is any for the overpowering coconut flavor and booming sweetness. For those that want an alternative to soy you have this and Rice Dream Rice Nog to choose from. If I was forced to choose one of the two this would be it. For that reason alone I'll give it a letter grade up. C-
Mrs. Nashveggie: Where's the spoon? Thickest one. Tastes too much like coconut milk.
The Kid: This one tastes like coconut. Eww.
The clear choice of vegan nogs is Earth Balance Soy Nog. A good balance of everything though not perfect. Still, faced with the decision when these four on on the shelf it would be the one to come home from the grocery store with me.
Those are my opinions on the nogly offerings you'll find this season. Suffice it to say Mrs. Nashveggie is not a Nog fan and I'll not likely let The Kid near that much sugar at a time so I'll be drinking what's left of the nogs. Each of the four have room to improve, some more than others. Hopefully next year someone will have the perfect nog. I can hope.