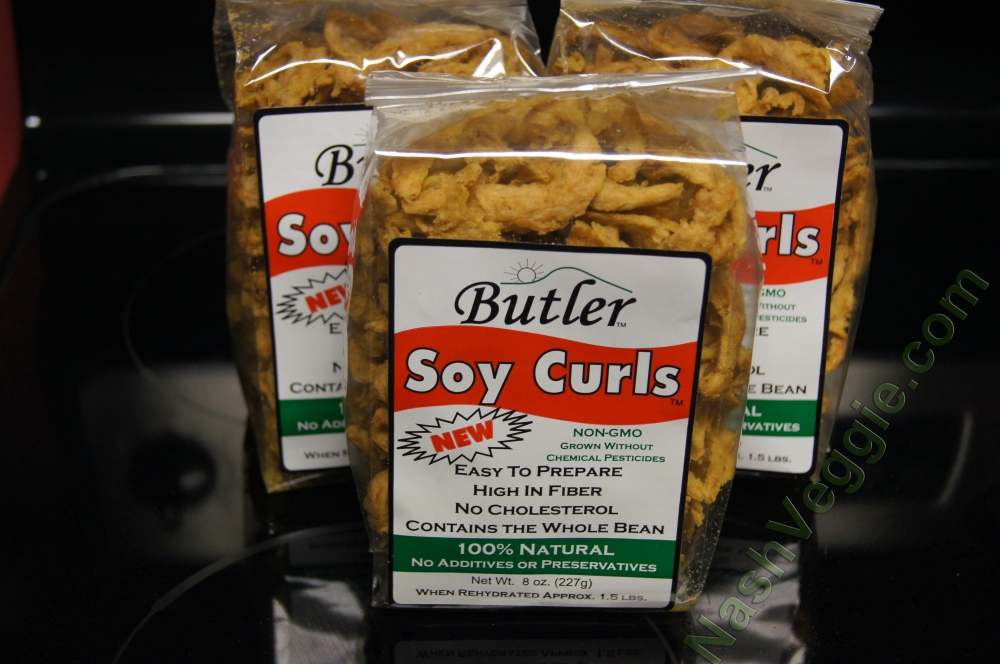 If you've been to Portland you'll find plenty vegan food and you'll also likely experience a thing called soy curls. They're found everywhere from Homegrown Smoker to Native Bowl. Nothing more than dried soybean protein they have a chewy texture and, like tofu, Butler Soy Curls can take on the flavor properties of whatever you season them with. So when given a few bags of these versatile goodies I brainstormed on what I should prepare first. The obvious choice was a simple barbecue sandwich.
I'm no fan of meat substitutes and I've made that clear before. I do, however, realize that fake meats have their place for transitioning vegetarians and the occasional vegan who likes the chance of getting with some junk food. I'll indulge in junk food from time to time and sometimes one of those fake meats might be what I choose if it's new or really doesn't have exact properties of actual meat.
I chose to make saucy barbecue sandwiches using some of the peach BBQ sauce I made and bottled over the summer. Instead of simply soaking the curls for a few minutes as the directions indicated I simmered them in a mixture of broth, seasonings and a little of the peach BBQ sauce for about 15 minutes until most of the liquid had boiled away leaving the soy curls well-flavored before I added them to a saucepan of peach BBQ sauce. I turned them down on low and simmered them again for about 30 minutes. Fresh baked buns awaited great vegan barbecue sandwich.
The soy curls are slightly chewy and have no flavor on their own so they can be made to fit into most any dish you choose. They're great for stir fries, sandwiches, fajitas and could be chopped slightly smaller and used in soups or stews.
Butler Soy Curls are available from their website as well as many online retailers.