A new vegan option has cropped up in the Coolsprings area. Brixx:Wood Fired Pizza has opened on McEwen Drive next to Whole Foods and behind Bricktops.  I managed to get a pre-opening invite to enjoy dinner while they practiced their daily motions thanks to Coolsprings.com.
The website and menu clearly states many of their items can be made vegan and that they offer vegan cheese as a substitute for regular cheese at no extra charge which is uncommon as there is typically an extra cost for this which most restaurants adopt. Brixx uses Follow Your Heart mozzarella (UPDATE: Brixx is now using Daiya mozzarella as their vegan cheese option)so you'll be getting a quality vegan cheese and it's truly vegan so no worries about whether it contains casein.
Our complimentary dinner included one appetizer, a salad, two pizzas, a sandwich and a pasta dish.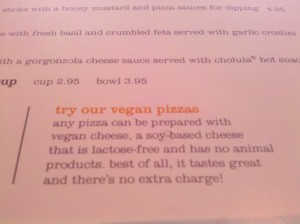 We chose the Wood Fired Pita Chips and Three Dips as our appetizer.  It was served on a large plate with three small scoops of hummus: black bean hummus, roasted red pepper hummus and traditional hummus. The hummus was served on a bed of greens and topped with roasted red peppers and cumin. Pita triangles, the equivalent of about three pitas, that had been toasted in the pizza oven were served around the perimeter of the plate. The hummus was very thick which made dipping a bit hard but flavorful and at $5.95 was a good appetizer though I would like a little more hummus. I didn't get to eat much of this one as the kid really enjoyed it and decided to take it for her own. That's a positive vote for the hummus.
Our salad was a modified Brixx Salad. We modified this one by simply leaving off the goat cheese. The salad is a spring mix topped with croutons and pistachios and served with a balsamic vinaigrette. It's served with a large piece of focaccia which looked to have cheese toasted onto it so we just ignored the bread. I'll be sure to inquire next time about it as it did look very inviting sitting on the edge of the plate. Another $5.95 selection and worth it. I would consider it a big salad. It's enough to share if you're having an entree as well.
We chose two pizzas, the Artichoke which is served with a basil pesto instead of red sauce. We asked our server if the pesto contained cheese and she quickly ran back to the kitchen to ask. She returned to tell us it did and we substituted red sauce instead. Substituting seems to be welcome at Brixx and didn't throw any confusion into the process so have at it if need be. The Artichoke pizza is topped with artichokes, roasted red peppers and sun-dried tomatoes. This pizza could be named the 80's pizza. Anything with sun-dried tomatoes belongs in the 80's. Not that I'm complaining about sun-dried tomatoes, I love them. Then again I love the 80's, so there. Of course, we also substituted the mozzarella for Follow Your Heart cheese. Our second pizza was the Wood-Roasted Vegetable. This was more of a typical veggie pizza with mushrooms I couldn't tell which type exactly, broccoli, bell peppers and onion. Substituting Follow Your Heart cheese this was also a very good pizza but I think I pick the Artichoke pizza as my favorite of the two. I just really like artichokes on a pizza and then there's that 80's thing. The kid got her own kid-sized pizza with red sauce and vegan cheese. She devoured the entire pizza, a good mark as this kid is a very picky eater.
All of Brixx's pizzas are on a thin, crisp crust and baked in a wood oven. The crust is available in original white flour or whole wheat and both contain nothing animal-derived right down to the turbinado sugar used. These are 100% vegan pizzas when ordered with Follow Your Heart vegan cheese. Brixx also serves pizzas with a gluten-free crust option at a $2 upcharge giving the gluten-challenged a pizza beacon that some may have missed for some time. Prices for the pizzas range from $8.95 to $11.95 though a pizza without all of the animal accoutrements will be in the $8.95-$9.95 range.   These are 10-inch pizzas, six slices per pizza and with a good dose of toppings.  Another note to keep in mind, after 10pm all pizzas and appetizers are 2-for-1.  Get your late-night munchies on!
–
We also ordered a Wild Mushroom Wrap. I expected the typical wrap: fillings in a run-of-the-mill tortilla. I don't know why I expected that but that's the typical wrap these days. That's not what we got. We were served a mix of portobello, shitake and white mushrooms, spinach and Follow Your Heart cheese wrapped in a slightly toasted pizza crust. One of the franchisees came to our table and explained that they put the pizza crust in the oven for two minutes and then wrap the fillings in it. This is a great wrap.  The pizza crust made this wrap superb not to mention the fresh, tasty fillings. If you're ordering this as a vegan be sure to leave off the sun-dried tomato (80's) aioli and substitute the Gorgonzola cheese. $7.95 for the Wild Mushroom Wrap.  All sandwiches and wraps are served with a choice of pasta salad, bean salad, fresh fruit or chips.
–
We didn't get a pasta as we were already feeling like pigs.  There are vegan options on the pasta menu and whole wheat pastas are available as well.
Brixx also has a wide range of beers on tap including Abita Root Beer for the sugar-fiends. With the 2-for-1 pizza deal and array of brews look for Brixx to be busy late nights and with the delicious food they should keep a good crowd at all other times. I'm proud to have a new vegan option in Coolsprings.
UPDATE: Brixx now uses Daiya mozzarella as their vegan cheese option.
(Brixx also has a location in Hendersonville at 300 North Indian Lake Boulevard.)
Brixx: Wood Fired Pizza
1550 West McEwen Drive Suite 10
Franklin, Tennessee 37067
(615) 771-7797
Hours: Monday – Saturday 11am-1am, Sunday 11am-11pm

View Larger Map