A few years ago I did a taste test of the various nogs available at the time. I still have bad memories regarding the rice nog. After seeing so many new varieties available this year I thought it would be time to do another test.
Now, nog, or egg nog as you know it by traditionally, is not everyone's thing. I have always enjoyed it. As a wee kid I would drink glasses of it. The non-vegan stuff isn't light on the fat or cholesterol, it does have egg in it, after all. My grandfather always preferred boiled custard which I felt was just the same as egg nog without the spices. I have not found a vegan boiled custard but have run across a few varieties of nog. I have chosen four for this article, one from each of the more popular bases: soy, almond, coconut and flax. OK, flax isn't that popular and has a relatively small shelf footprint but the other choice was rice and I wasn't going to go through that again. Rice nog is terrible. Cut the chase, there's your answer.
So as I'm not the only opinion you'll get on these nogs, I enlised the tastebuds of the kid. The kid is my 12 year old daughter. She's picky.
The nog's are Silk's Nog that is always a staple in the non-dairy section this time of year, So Delicious Coconut Nog, Trader Joe's Almond Nog and Good Karma Flax Nog. Lined up, and poured into glasses, the sipping was on.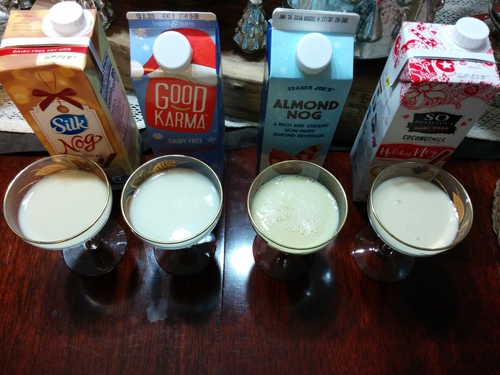 Silk Nog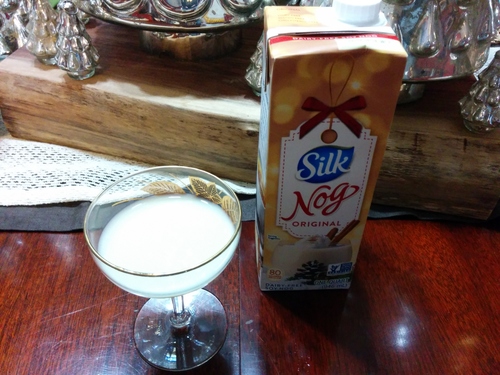 A few years ago when I first did this taste test, Silk faired pretty well. I expected it to do the same again. Though, something seems to have changed with Silk's nog. I don't know what it is. I am sure Silk has undergone a formula change in many of their products since recently removing carageenan from their ingredients for whatever reason amid sqiubbles of ultra-purists. That might be the change I am tasting. Still, not a bad nog. It doesn't come close to what was my favorite at one time. (I miss you, Earth Balance Nog) This one has a good flavor with a slight hint of nutmeg. It's not too sweet though it is a little on the thin side. No nog consistency at all. It doesn't cat the side of my glass like a good nog should.  A-
The Kid: This is good.
Good Karma Holiday Nog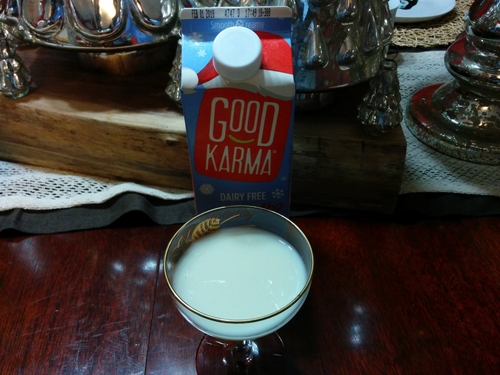 I'm not one for flax, I don't even like flax used as a binder in baking. There's not much it lends to anything. It also doesn't lend anything to nog. I don't even think this is nog. In fact, I'm not sure this was even meant to be a drink. No flavor, none. It's almost like Good Karma said "We need a nog. Let's make a carton that says Holiday Nog and pour our flax milk in it. We don't have to do anything else because it won't matter. Flax is terrible."  The worst part is the heavy chemical taste and the horrible aftertaste. I don't know why something natural would have such a chemical aftertaste. It's just so powerful. The only flavor this nog has is chemical. No spice. No sweetness. Just chemical. Not drinkable. Don't try.   F
The Kid: I don't like this one.
Trader Joe's Almond Nog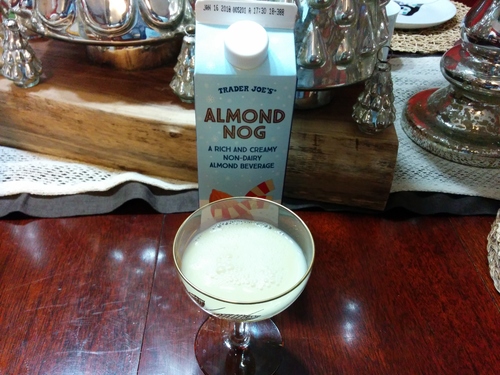 I can generally drink almond milk if it is cold. People who use almond milk to make lattes have no scruples. I thought this one would be good. I could see where a light almond flavor would lend to nog. After one sip I knew I was off the mark with that idea. So nutty. Just nuts. This doesn't taste like nog at all. I caught a hint of a flavor that was trying to reach out. Was it nutmeg trying to get my attention? And then it was gone, crushed by the overwhelming nuttiness. Not a total failure only because I would then have to say it's as bad as Good Karma.  C-
The Kid: Eww. NO!
So Delicious Coconut Nog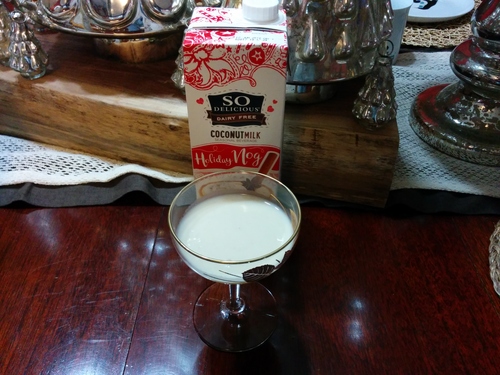 I have never been much a lover of coconut milk products. When it comes to these most just make me feel like I am drinking oil and So Delicious coconut milk is the same way. I can enjoy their ice cream but that's about as far as I go. However, this was the only nog I tried that had the right consistency. A good thickness that would coat the sides of the glass is key in nog. Unfortunately, that about all this one has. I am sure the spice is there but it just so sweet I can't taste it. There's so much sweetness that you can't call it much other than sugar nog. If it were not for the powerful sweetness this might be good. Otherwise ,may be good for helping with nausea.  B-
The Kid: This doesn't taste right.
If you have found a nog that I didn't try let me know. Next year I'll try to add it to my drinking list. I hope your holidays are happy and full of a good nog!