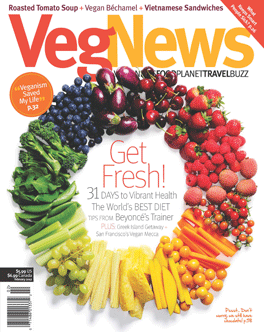 Congratulations to Sarah, the winner of  A Vegan New Year VegNews Giveaway! Sarah commented at number 52, which random.org randomly randomized out of randomness, however it randomly does that with its random coding.
Sarah's resolution:
My resolutions are mostly health related – floss daily, resume drinking lots of water, ride my new bike more often, do yoga 3 times a week. Good stuff! Totally doable.
Sarah will be doing yoga, flossing and drinking water while riding her new bike. Please watch for her and move over if you see her riding down the street. She'll need the extra room.
Thanks to everyone who entered, tweeted, retweeted and thanks to VegNews for the great magazine! The giveaway was so popular that I'm planning giveaways each month. Look for a new giveaway soon!