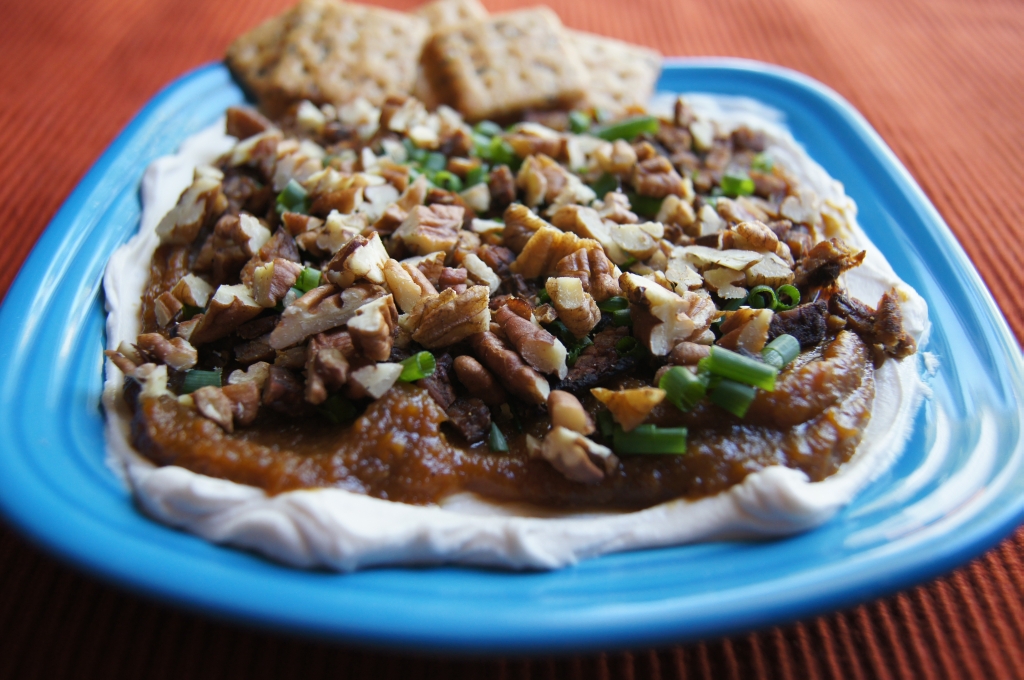 Fewer ingredients hit a popularity during a certain season like pumpkin does in fall. Pumpkin pie, pumpkin soup, pumpkin spice lattes all hit a high during this time of year. One of our favorite snacks to make involves a generous taste of sweet pumpkin. Pumpkin Pecan Dip is a quick munchie that can be made on a whim and will have even the meat eaters asking for more.
As with all of the recipes I post don't skimp on the ingredients with a cheaper version of something thinking you'll get the same flavor. It doesn't work. I've tried this with different brands of pumpkin spread and vegan cream cheese and the flavors just aren't there. You'll find the Muirhead Pecan Pumpkin Butter at Williams-Sonoma and Galaxy Nutritional Foods Vegan Plain Cream Cheese is available at most Whole Foods stores. Again, don't skimp if you want the best flavor. You've been warned.
Also, as with most of my recipes, they're not really hardline recipes. For the most part, I don't use recipes in my cooking and food preparation. I'm a little of this and little of that food creator. I have developed some of my "this and that creations" into traditional recipes to share and I plan on doing more of that in the future.  People keep asking me for recipes of the things I post pictures of on Twitter and I tell them there's no recipe.  Some have said that I'm just not willing to share. No, I say that because I don't have a recipe for the vegan cornbread that will destroy the milk and egg cornbread your grandmother makes, the vegan biscuits that make those from "that local joint, you know the one" seem like flavorless hockey pucks (they are) or the barbecue tempeh that's full of perfect flavor all the way through that I like to have once a week. I say that because it's true. I could write down general guidelines but it wouldn't be in recipe form.  Some of the best things you'll ever eat will come from a little of this/little of that approach. Damn the recipe!
With that said, here's the….recipe.
Vegan Pumpkin Pecan Dip
1/2 tub (4 oz) Galaxy Nutritional Vegan Plain Cream Cheese
1/3 cup Williams-Sonoma Muirhead Pecan Pumpkin Butter
2 strips Lightlife Smoky Tempeh Strips
1/2 cup Pecans
2 tbs chives or green onions, chopped fine
Toast the pecans until lightly and fry the tempeh strips until crisp. Finely chop both the toasted pecans and tempeh strips, set aside.  Spread the Vegan Cream Cheese evenly on a small plate about 1/2 inch thick. Spread the Pecan Pumpkin Butter evenly on top of the vegan cream cheese.  Sprinkle the toasted pecans and tempeh strips on top of the pecan pumpkin butter.  Top with chopped chives or green onions.
Serve with crackers such as wheat thins. I prefer Trader Joe's Everything Crackers.