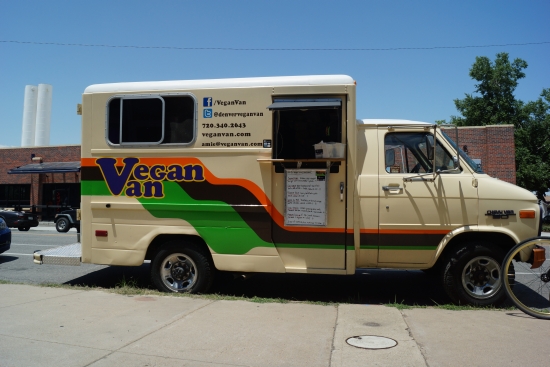 We love to travel and it has been awhile since I've made a travel post. Our last trip was to Colorado just last week. It has been 3 years since visiting one of our favorite places and in that time the vegan options have become plentiful. It is always great to visit somewhere you can easily dine out without worrying if your veggies have meat sprinkled in them.
We were excited to discover that Denver now has its own food truck. Food trucks are booming in some areas and languishing in some. I still believe it is a food fad but I'll still partake of one when I find it. We did happen upon Denver's Vegan Van while making a visit to Nooch, which happens to be a full vegan market.
The Vegan Van has a short menu as a food truck should.  Selections were limited to sandwiches and wraps with their version of vegan 'wings' made buffalo or hoisin style. Nothing very mind-blowing or extravagant to be found. Just a few simple things. Simple is good.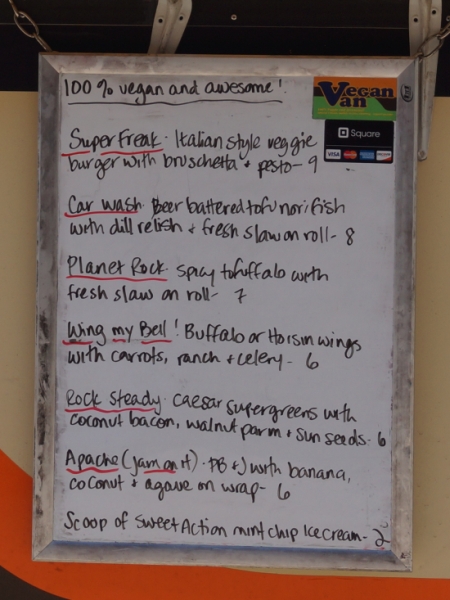 I went for a Planet Rock. This was a standard buffalo sauced tofu sandwich topped with a creamy slaw. The flavor of the sauce was OK, there were 3 pieces of, unfortunately, unmarinated tofu on the sandwich and the slaw had a good flavor. Mrs. Nashveggie and Miss Nashveggie each had the Super Freak, an Italian-style veggie burger with bruschetta. The burger was covered in a mix of green and yellow peppers. I'm not really sure what was Italian about the burger. One might expect some basil or oregano. Perhaps some marinara-sauce topping if even taking the easy way out. There was no bruschetta to be found, the bun was just a bun. There was no toasting, garlic, oil or anything else typically used as bruschetta topping. The patty had a rather bland flavor and the greens and peppers lent more flavor to the sandwich than the patty did. While none of the sandwiches were absolutely stand-out even more of a let down was paying $7-$9 per sandwich and getting nothing more than stale popcorn as a side. Even plain potato  chips would have been a better offering than a handful of popcorn that was mostly unpopped kernels.
I really believe that Denver can support a vegan food truck and I hope on our next visit to the area the Vegan Van is still riding.  I also hope in that time they have made significant improvements. They have plenty of room to make them.