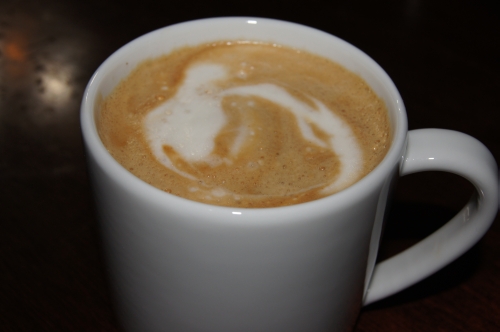 The holidays are here and while you may love a Pumpkin Spice Latte you're ready to move on. Moving on means Gingerbread Lattes. Yes, Starbucks is the most popular hub for getting your gingerbread latte but who really wants all of that artificial and unknown goop they pump into your "grande" cup? Why not make your own syrup at home and use fresh spices? You can do it!
This is just an alteration of my Pumpkin Spice Latte Syrup recipe.  Again, only use fresh spices. You don't want to have a flavorless or bland syrup. This syrup uses fresh ginger for a little ginger bite. Not only are you going to get great coffees from this syrup but your kitchen is going to smell wonderful when you make it!
Gingerbread Latte Syrup
1 cup Water
1 TSP Peppercorns
2 TBS Whole Allspice
2 TSP Ground Cinnamon
1 TSP Ground Cloves
2 TSP Ground Ginger
4 pieces of fresh ginger, about 1 inch long each peeled and crushed (use the back of a knife or large spoon)
1 cup Vegan Cane Sugar or Evaporated Cane Juice
2 TBS Molasses
1/2 TSP Vanilla Extract
In a small pan heat the peppercorns over high heat until they begin to pop. Add the water, peppercorns, allspice, cinnamon, cloves and both gingers to a saucepan and heat over medium-high heat until it comes to a boil. Turn heat to medium-low and simmer for about 5 minutes. Remove from heat and add sugar and molasses. Return to a boil for one minute stirring constantly. Remove from heat and let cool. Stir in vanilla. Strain with a fine strainer or cheesecloth into a sealable bottle or other container. Makes about 1 1/2 cups of syrup.
I like to use about 2 tablespoons for a typical 2 shot latte. Adjust to your taste.