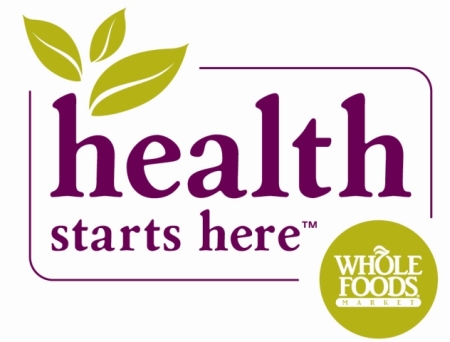 By now everyone has heard of the Engine 2 Diet and its Plant-Strong plan focusing on meals of fruits, veggies, legumes, nuts and whole grains. The bestselling book, The Engine 2 Diet, by Rip Esselstyn has been in the news and is seen in every Whole Foods which has developed a healthy eating guide based off the diet plan called Health Starts Here.
Health Starts Here is a program developed by Whole Foods and is an offshoot of the very popular Engine 2 Diet which has been proliferated lately by the movie Forks Over Knives. Helath Starts Here follows what is called a four-pillar approach to food:
Whole Food
Eat whole, unprocessed foods.
We believe that food in its purest state — unadulterated by artificial additives, sweeteners, colorings, and preservatives — is the best tasting and most nutritious food available.
Plant-Strong
Eat a colorful variety of plants.
No matter what type of diet you follow — including those with dairy, meat or seafood — reconfigure your plate so the majority of each meal is created from an abundance of raw and cooked vegetables, fruits, legumes and beans, nuts, seeds and whole grains.
Healthy Fats
Eat healthy fats.
Get healthy fats from whole plant sources, such as nuts, seeds and avocados. These foods are rich in micronutrients as well. Work to eliminate (or minimize) extracted oils and processed fats.
Nutrient Dense
Eat nutrient dense foods
Choose foods that are rich in micronutrients when compared to their total caloric content. Micronutrients include vitamins, minerals, antioxidants and phytochemicals.
The diet emphasizes the use of fresh fruits and vegetables and whole grains. It also makes a strong case against the use of added oils encouraging all fats come from those already found in foods such as nuts and cooking using vegetable broth as a replacement where oil is typically used such as sauteing.
We were invited to a Health Starts Here event by Whole Foods Green Hills culinary demonstration that was instructed by Chad Sarno. Sarno is a classically-trained chef and a co-founder of the Health Starts Here program. He has owned vegetarian restaurants in London, Turkey and the US.
The demonstration class focused on dishes that could be made quickly and preparing ingredients in bulk to make the prep quicker. Cooking enough beans for a week's worth of meals. Making sauces in portions to be used for many dishes as well as full dishes that could be kept in the refrigerator for easy lunches.
All of the meals prepared used no oil and no salt. In place of salt Sarno had created as seasoning mixture he calls Wicked Good Spice and Seed Blend, a mixture of sesame, sunflower seeds, flax and nutritional yeast. Instruction was given in making your own almond milk as well as a basic white sauce. The quick and simple Kale Avocado Salad was one of the most surprising dishes created. Kale, tomato, avocado, onion and the juice of a lemon made a very flavorful and satisfying salad without need for any extra seasonings. Quick and simple it can be kept in the refrigerator for a grab whenever the craving came.
I could easily go on about the dishes but it's best to just give you some recipes. Give these a go and don't worry about the omission of salt or oil where you may be accustomed to adding them. They're unnecessary. The flavors pop in these.
Wicked Good Spice and Seed Blend
1/2 C Sesame Seeds, dry toasted
1/2 C Sunflower Seeds, dry toasted
1/2 C Golden Flax Meal
1/2 C Nutritional Yeast
2 TBS Onion Powder
1/2 TBS Chipotle Spice
1 TBS Garlic Powder
Black Pepper
Toss all together and store in shaker or air tight container. Great all purpose seasoning.

Kale Avocado Salad
This is a very simple, quick and delicious dish. Completely raw.
1 head of kale, any variety, shredded
1 large tomato
1 1/2 avocado, chopped
2 TBS red onion, green onion or leek, finely diced
Juice of 1 lemon
Pinch of cayenne
In mixing bowl, toss all ingredients squeezing as you mix to wilt the kale and creaming the avocado.  Serve immediately.
Basic White Sauce
1 C raw cashews, soaked (or tofu)
1 1/2 onion diced & steam fried in veggie stock
2 garlic cloves
1 cup unsweetened non-dairy milk
1 1/2 Cup low salt vegetable stock
3 TBS Nutritional Yeast
Pepper to taste
Saute onions and garlic with stock and steam fry until onions are translucent. Add to blender with soaked cashews, soy/nut milk and rest of ingredients and blend adjusting thickness to desired consistency. Add fresh herbs to finish. Sauce will reduce and continue to thicken on its own with time. Use as a base for any other sauces.

Chad Sarno has a return visit planned for Salud at Whole Foods Green Hills with a class on vegan cooking. The class is set for sometime in April/May. I'll post dates and more on it when information becomes available.