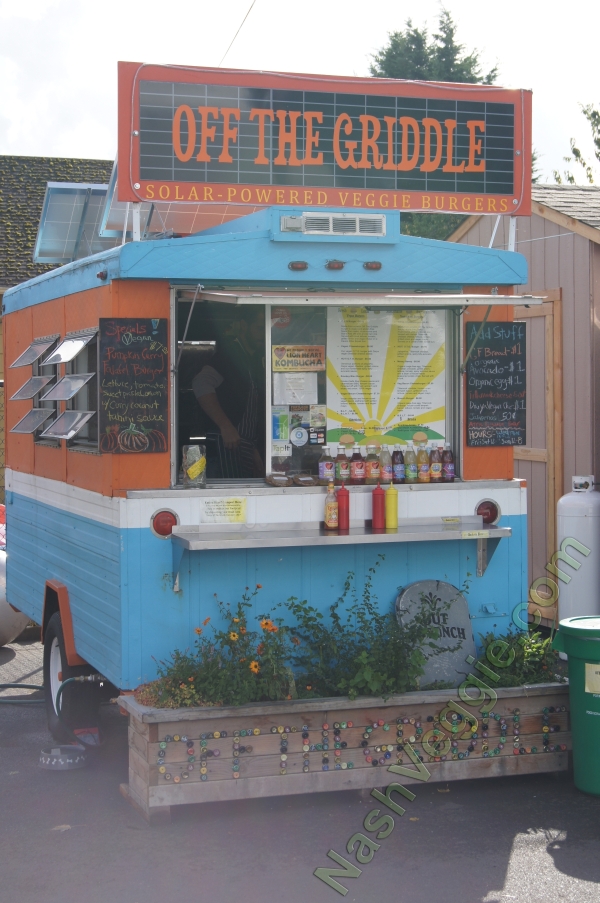 After going through all of the notes I made on our trip to Portland and all of the food pictures I took, as well as the non-food pictures, I've come to realize that I could be writing a post a day. I don't have the time to write a post a day and that would have me wriiting about Portland up until my next Portland trip. I'm not going to do that so I'm going to touch on a few of the highlights of the food portion of our trip and maybe a conglomeration post with a few tidbits of what's left over with the pictures that are left.
I am a veggie burger lover. I will make one at home on occasion and always skip the frozen ones opting for fresh. If you're looking locally in Nashville for a decent one in a restaurant you could always go with J. Alexander's which makes a pretty good one.  However, in Portland I encountered the best veggie burger I've ever had in a restaurant. For lunch one day we searched out Off The Griddle, a small food cart on the corner of SE 50th and SE Division. Serving nothing but veggie burgers, both vegan and vegetarian choices, you knew they had to have it down and would serve up a killer burger. No disappointments. All of Off The Griddle's burgers are mostly organic, homemade and served on Dave's Killer Bread. Dave's Killer Bread is another anomaly of amazing food goodness but I'll try to give you more on that later. The cart is also solar-powered. Solar-powered, homemade, mostly organic and vegan. How can you possibly beat that? Make the best veggie burger you'll ever eat.
We ordered the Smoky Bleu Burger, topped with tempeh bacon, spinach, onion and a vegan bleu cheese sauce that was so close to bleu cheese that it had me questioning it's vegan authenticity. Our second choice was the daily special, a Pumpkin Curry Falafel Burger. This one had the usual inclusions, tomatoes, onions, lettuce and sweet pickles but also a great tasting curry coconut tahini sauce that made the burger perfect. Both burgers were, of course, vegan and had great texture. They weren't mushy and didn't fall apart. These could be the perfect vegan veggie burgers.
There's ample seating available in the food cart pod so you don't have to search our a place to sit on the street or walk with your food. These tasty burgers are prepared fresh to order so grab a seat and wait for the most amazing veggie burger you'll ever encounter.
If I could get to Off The Griddle right now I would. If I could have the veggie burger perfection that I found at Off The Griddle right now I would. However, that would be a 2,351 mile trip and I don't have enough time during lunch to get there and back. Next trip to Portland, though, it's on!