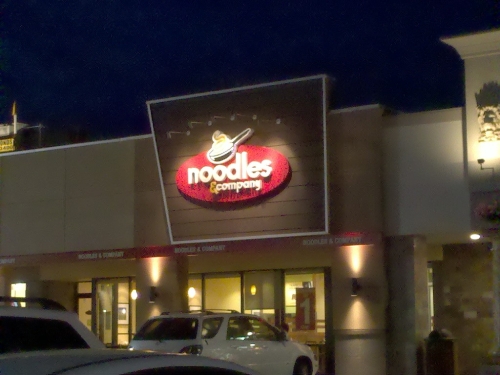 Noodles & Company has opened a new location in the strip center adjacent to The Mall at Green Hills. For those not familiar with Noodles & Company it is a fast casual restaurant serving pasta bowls that are freshly prepared.  All items are $5.95 for a large or $4.95 for a slightly smaller portion.
We have visited Noodles & Company in Denver on many occasions previously and are very happy to have a location now in Nashville giving us another vegan option.
I received a VIP (read: let us use you for training purposes) invite to a pre-opening event this past Saturday. My sidekick foodie was our 5 year-old daughter who is a pasta-lover. I checked the website beforehand to make sure I knew what was vegan friendly. There is a selection of nine items on the menu that either are vegan or can be made vegan with a simple omission. Tofu is an option to be added to any entree.
Indonesian Peanut Saute
Japanese Pan Noodles
Chinese Chop Salad with no wontons
Penne Rosa with no cream and no cheese
Pasta Fresca with no cheese
Whole Grain Tuscan Linguine with no cream and no cheese
Spaghetti with no cheese
Cucumber Tomato Salad
Tossed Green Side Salad with balsamic vinaigrette
Upon entering we were greeted, asked for our names for the invite list and given a menu. While talking with the greeters, about 2 minutes,  no less than 10 people walked in the door only to be turned away when told it was invite only. Most seemed a little angry. I told the employees we were vegan and was quickly and happily handed a vegan menu, not something you get much of around here.  Usually when we tell a server that were vegan it's typically followed by a blank stare and, "What does that mean?"
I had already decided to get the Japanese Pan Noodles and the kid just wanted a pasta so she decided to get Pasta Rosa. We added tofu to each, of course. Our food was served quickly and looked great. The one issue was the kid could not eat hers. It was far too spicy and I wished I had known it would be such an overpowering heat before she had ordered. A little spice doesn't bother her but the Penne Rosa was far too hot for her. We packed it to go. The Japanese Pan Noodles was very tasty and not over-sauced. The dish was served with flavorful, seared tofu and fresh, crispy sprouts which my daughter thoroughly enjoyed picking from my plate. The noodles were a bit overcooked but I expect that to be worked out as this was, of course, a training session. I had planned on eating only half and boxing the rest but it was gone before I knew it.
The remainder of the Penne Rosa was reheated and eaten the day after our visit and tasted just as fresh as when it was served in the restaurant. I only wished I had some more of the Japanese Pan Noodles to munch on at the time. I plan another visit this week and I'll likely try the Indonesian Peanut Saute or the Bangkok Curry. You'll be seeing plenty of me at Noodles & Company in the future.
Noodles & Company
2116 Green Hills Village Drive
Nashville, Tennessee 37215
(615) 383-7740