A bagel in the morning toasted, dry. Tomato sandwich on a bagel with Vegenaise. Those were two of my favorite snacks up until a couple weeks ago. When I noticed Trader Joe's bagels had gotten a little fatter I was a bit happy, they even felt softer than before. Picking up the two packs, one sesame and one everything, for the week I noticed something about the label that was different but thought nothing of it.
A day or two later my wife is opening the bag and she says, "These bagels have honey in them."  My first though was no way, they have a vegan logo on the label. Looking at the package the V logo on the front label is missing and honey is listed in the ingredients.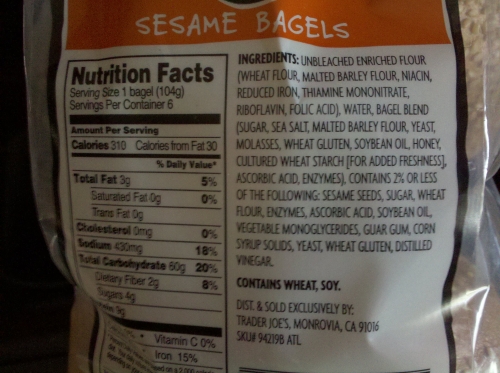 With this change bagels may be unavailable to the vegan, at least in the Nashville area. Panera bagels contain L-Cysteine from an animal source and now Trader Joe's, the once lone vegan holdout, has jumped ship. I've only checked the sesame and everything varieties of Trader Joe's bagels but there seems to be a supplier change and possibly all varieties now contain honey. This  may only apply to the Southeast Trader Joe's supply as Trader Joe's uses a different baker for each area of the country to keep their supplies fresh.
You can comment on the change Trader Joe's has made at this link.
If anyone knows of a vegan bagel please let me know.
UPDATE: After checking, Trader Joe's Whole Wheat Bagels are still vegan.  I asked a Trader Joe's employee who is familiar with them and said a new supplier was chosen about a month prior for all bagels except the whole wheat.  The new supplier uses honey in all recipes.  The supplier for the whole wheat variety is the same from two changes ago.
*Possibly only in the Southeast/Atlanta region.
UPDATE: As of June 1, 2011, Panera Bread has changed bagel providers and now serves a tasty vegan bagel without animal sourced L-Cysteine. Go get 'em!