A new year is on the way. Time to pack up the holiday decorations and get ready for a bash to welcome 2012. People will be making resolutions and hopefully many of them will be to adopt a vegan lifestyle. What better way to feed yourself with the information you need than to get a subscription to VegNews? To help out I'm giving away a one-year subscription to VegNews  magazine. You don't have to be making a resolution to go vegan to win but I would like to know what your 2012 resolution is.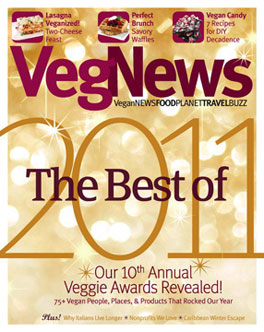 VegNews is a bi-monthly manual to vegan living. Recipes, travel articles and news from the vegan point-of-view on politics, animal rights and shopping. No other publication covers the vegan lifestyle the way VegNews does. You need this magazine in your life and you'll have a year of joyous reading for FREE! If you already have a subscription to VegNews and win you can use this to renew your existing subscription.
To enter, leave a comment with what your resolution is for 2012. Be sure to use a valid  email address so I can contact you if you win. For an extra entry, follow me on Twitter and retweet this tweet then leave a comment telling me your followed and tweeted. Be sure to include your Twitter username in your comment. I will randomly select a winner from all of the entries on Monday, January 9 and notify them by email. Good Luck and Go Vegan in 2012!