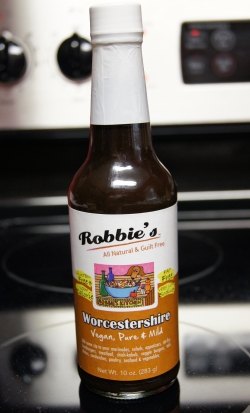 I'm a lover of sauces. I cook with it and pour it on my food. I even make my own barbecue sauce. One of my favorites is Worcestershire and one of my favorite uses is putting it on a baked potato. I know that may seem odd to some but until you try it don't sneer at it. Up to now the only vegan Worcestershire sauces I've found have been Amy's and The Wizard's. While good, both of those are a little to thick for me and don't quite hit the flavor. I just discovered Robbie's Worcestershire, a vegan Worcesterchire that is the most perfect vegan Worcestershire I've found. What makes Worcestershire not vegan, you may ask. Anchovies. It is the ingredient in most conventional Worcestershire sauces though I never remembered tasting it in sauces from Lea & Perrins or French's.
Robbie's Worcestershire is thin, just as every conventional sauce I've used and has the absolute perfect flavor. As a plus, it is the same price as Amy's and The Wizard's for twice the amount.
Robbie's Worcestershire is available at Whole Foods in Franklin.
Time for some potatoes on the grill!