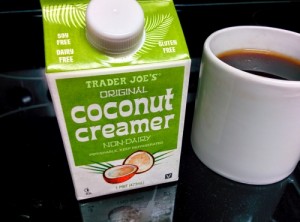 I love coffee. Anyone who follows my Twitter knows this as I'm always rambling about the bean extract. I don't typically drink anything in my morning french press but on occasion I'll try a new creamer if I see one that is interesting.
While at Trader Joe's a few days ago I saw a new item, coconut creamer. I have tried coconut milks, typically labeled as a beverage so not to get confused with actual coconut milk such as in a can, in the past and have not found one I could stand to drink. They all have an unusual plastic feel which gives me a sense I'm drinking pure fat. The taste is also something I cannot deal with. I thought the creamer would be different so I opted to try it.
To properly cream a 10 ounce cup of coffee required about 3 tablespoons of creamer. When I do use a creamer I don't like a heavy amount so I felt to attain the light creaminess this was a bit much to have to use. The flavor was exactly as I expected, an acidic aftertaste as I find in all coconut milk products.
I'm sure I can find another use for this little carton so I'm not completely wasting it. Maybe I can use it in our next batch of vegan ice cream. I'm quite certain it is just relabeled  So Delicious coconut creamer. If you have tried So Delicious creamer and like the results then you may save yourself a dollar by buying this version. In the end it's just not for me. I'll keep my coffee dark and vibrant.