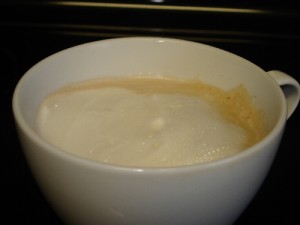 This time of year brings out the candy coffee lover in people and most make a line to Starbucks and other coffee places that have decided the Pumpkin Spice Latte is the coffee flavor of the season. They are very good, although Starbucks isn't vegan and Panera's is, but they are very expensive. At and average of $4 for a Soy Pumpkin Spice Latte it can add up quickly if you become addicted. You could opt for a store-bought syrup. Williams-Sonoma sells a very good Pumpkin Spice Latte Syrup.  At $10 for a small bottle that can also get expensive if you're enjoying a pumpkin spice latte once or twice a day. With home espresso makers more affordable than the 5-time-a-week or more trips to the coffeeshop having a way to make your own Pumpkin Spice Latte at home should be as easy.

I created my own Pumpkin Spice Latte Syrup after both my wife and I decided there was something about a cold morning and a spiced coffee that just fit. It is very simple but extremely tasty, better than any you'll find at Starbucks, Panera or any other coffeeshop I've ever had a Pumpkin Spice Latte from and without all of the added preservatives you'll find in those syrups some of the coffeeshops use. Even better, your wallet won't be taking that ridiculous $4-plus hit with each drink.

High quality, fresh spices make all the difference in this recipe as they do in all.  Cheap or old spices will give a weak flavor and a bad syrup.


Pumpkin Spice Latte Syrup

1 Cup Water
1 Cup Vegan Sugar or Evaporated Cane Juice
2 TBS Whole Allspice
2 TBS Whole Cloves
1 TSP Ground Cinnamon
1/2 TSP Ground Ginger
1/2 TSP Fresh Ground Nutmeg
1 TSP Vanilla
1/2 Cup Pumpkin Puree

In a medium pan bring water, allspice, cloves, cinnamon, ginger and nutmeg to a boil. Boil for 1 minute and add sugar. Return to boil and whisk until sugar is dissolved. Continue to boil for about 3 minutes. Remove from heat and add pumpkin, return to boil whisking until pumpkin is well blended. Remove from heat and allow to completely cool. With a slotted spoon or strainer remove cloves and allspice. Cool completely, add vanilla and pour into jar or bottle for storage. When making your latte use two tablespoons, or more for a stronger flavor, for an 8 ounce latte. Makes about 1 1/2 cups of syrup.

Like this article?