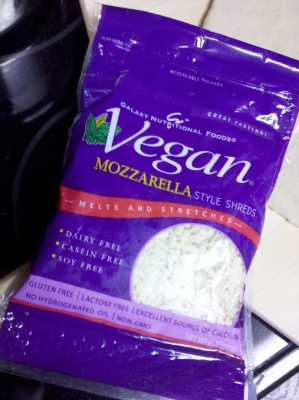 Sometimes a vegan likes to eat the things they loved before becoming one who avoids animal products. Many vegans will say cheese is one of the hardest things to give up on the path to veganism. There are many cheese substitutes in the grocery store now, many more than just 5 years ago. As a vegan you have to read your labels even on these veggie-based cheeses as many contain casein. That's something I've never understood. Why put milk in a cheese if your trying to make a veggie cheese? Doesn't that defeat the purpose? I realize the casein is there to give the cheese the proper texture when melted but if you can't obtain the proper texture without it then why bother making the veggie cheese to begin with? Many vegan cheeses  have found the proper ingredient formula to get all the stretchy goodness of melted cheese without the extra animal squeezings. Galaxy Nutritional Foods is the latest to give this a try.
Galaxy Nutrition Foods has just come out with two varieties of vegan cheese shreds, mozzarella and a Mexican blend. I gave the mozzarella a try on the only proper way to do so: pizza.  Not just any pizza but grilled pizza, my favorite way to bake a pie.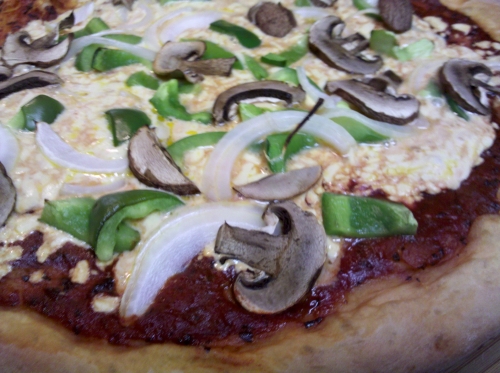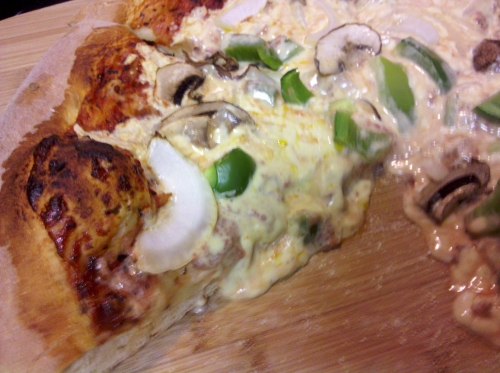 The cheese has a good flavor and melts very well. As far as stringy stretch it doesn't quite get there like another very popular vegan cheese but instead has a more "liquid" consistency when melted. As far as flavor, it is very tasty. I would prefer more of the stretch but still a very good vegan cheese.
I've only found Galaxy Nutritional Foods Shreds at Kroger and EarthFare but I'm sure it will be making it's way to other outlets soon.