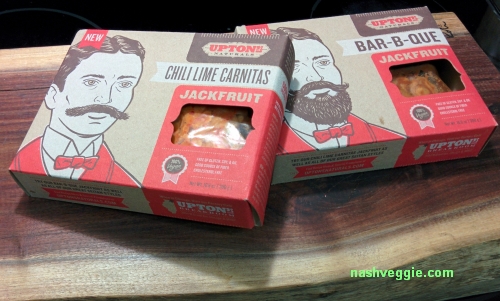 Anyone who knows me knows my love for barbecue. As a vegan I still love barbecue. You don't have to use pork, beef or chicken to get the smoky goodness of barbecue. As a matter of fact, for me it is all about the sauce. I just need a form of transport for the sauce and sometimes that's a simple as a spoon. However, being the barbecue lover as I am I was excited to try Upton's Naturals Jackfruit. I had tried a barbecue jackfruit sandwich once before at Native Foods and we seriously underwhelmed but I believe it had more to do with the fact I had paid $10 for a sandwich that had 2 small pieces of jackfruit and was nearly flavorless.
Jackfruit has recently elevated itself as the new vegan meat replacement of choice among the vegans who like meat replacements. It has a chewy texture and a stringy form when unripe that much resembles pulled pork or beef. Add that to barbecue sauce and you have what could be a nice sandwich for some.
Upton's Naturals is a Chicago based natural food producer. Their products consist of seitan and now they have added jackfruit to their line. The jackfruit from Upton's Naturals is available in Bar-B-Que and Chili Lime Carnitas. I tried both.
I prepared the Bar-B-Que jackfruit on stovetop. I heated it slowly in a pan, covered and served it on a freshly baked bun with sweet pickles. On the first bite I felt something was off. The flavor was very vinegary. There was no smokiness or sweetness to the sauce. The flavor of the jackfruit was there in a fruity way but the sweetness of the barbecue sauce which should always be noticeable in a good barbecue sauce was completely missing. I trudged through the rest of the sandwich but was left very underwhelmed. I think this product could benefit from a reworking of the sauce that it is served with.
The Chili Lime Carnitas Jackfruit is similar in form to the Bar-B-Que Jackfruit. I prepared it the same as the Bar-B-Que and serve it with black beans and rice. Upon the first bite I noticed the same acidity present in the Bar-B-Que Jackfruit. There was no lime flavor at all. There was no spice or flavoring to the sauce or jackfruit other than the acidic sauce. There was a distinct fruit flavor to the jackfruit that was entirely out of place as though the jackfruit had been overripe. I had beans and rice for dinner this night and the jackfruit went uneaten.
If you are a jackfruit fan these two products may be for you. I am not certain of whether these are not good products or I'm just not a fan of jackfruit but I honestly think the issue lies in the sauce and spices used with the jackfruit.
If you're up for trying your own and forming an opinion for yourself both varieties of jackfruit as well as seitan from Upton's Naturals is available from Vegan Essentials and other locations. At the time of this article, Whole Foods in the Nashville area does not stock the jackfruit.