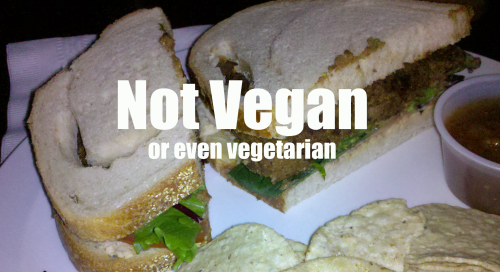 A little disconcerting news to those who are looking for a vegan veggie burger in Nashville, it has been brought to my attention by employees of the restaurant that the black bean and quinoa burger lauded by many at Burger UP, otherwise known as the Marathon Burger is NOT vegan or vegetarian. One of the ingredients used is their made-in-house ketchup which contains standard Worcestershire sauce that has anchovies. This Worcestershire sauce is also used in the ketchup they serve to dip those fries in it as well. The ketchup isn't just served on top of the Marathon Burger, it is IN the burger so asking to leave it off it isn't so simple.  Though the Marathon Burger is not listed as vegan or vegetarian on their menu many have inquired about it and told it is while it has garnered many reviews in local publications as suitable for vegans and vegetarians without any correction. Adding egg is a common move by restaurants when making veggie burgers and vegans know to ask about that in advance but adding a non-vegetarian ingredient such as standard Worcestershire just makes no sense whatsoever as you've just relegated the burger to the same as your animal meat sandwiches without so much as a mention to this on the menu. Listing those ingredients on the menu would go a long way.
Hopefully, we can urge Burger Up to make a change.
UPDATE: I've been told that the Marathon Burger also has panko bread crumbs which, in this case, contain egg. While those would be vegetarian they are of course not vegan.
UPDATE: Speaking with the owner lends the news that Burger Up is working to revise their Marathon Burger recipe with a vegetarian Worcestershire sauce. This is great news.