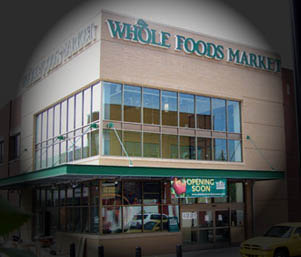 We were at the new Whole Foods in the Hill Center at 8 am yesterday, many more people were there than I expected. The line doubled around the corner for the free breakfast.  After the bread breaking (Whole Foods' way of doing a ribbon-cutting), we were the first in the door. Everything was as I expected from the other Whole Foods locations. One standout is the Olive Oil/Balsamic Vinegar tasting station, bottles line the shelves and slices of bread are supplied for you to try almost any vinegar or oil available.
One thing that I really liked was finding Organic Valley Unsweetened Soymilk and finally not having to purchase Silk any longer. I even spoke with one lady for a few minutes and noticed she had about 10 half-gallon cartons of Silk in her cart I told her about Dean Foods which owns Silk.   I saw her soon after putting all of her Silk back on the shelf, right beside the Silk representative that was there! I get laughs in silly, vindictive ways.
I spoke with Laura Button, owner of Journey To Bliss Foods, who was giving out some great samples of her products. My daughter loved the Carrot Cake.
For those wondering, plenty of local products can be found throughout the store and a brochure is even provided to give more information.
One thing I saw that was unlike any other Whole Foods was the cafe was located outside of the cash registers. As well, there was far more outside seating available than I have seen at other locations.
When we were leaving (after returning for the third time) we walked by a lady who was complaining to management about the traffic and parking situation. She went on and on and just would take any explanation as good enough. One management member even walked her through the parking garage to help her understand the best way to enter and leave. We made it a point ot walk up to the same management and thank them for bringing Whole Foods here and told them we had zero complaints. My mother said she went back inside 30 minutes later and the same lady was complaining to someone else about the same thing.
Of course, this will be my new hangout when I have nothing better to do.