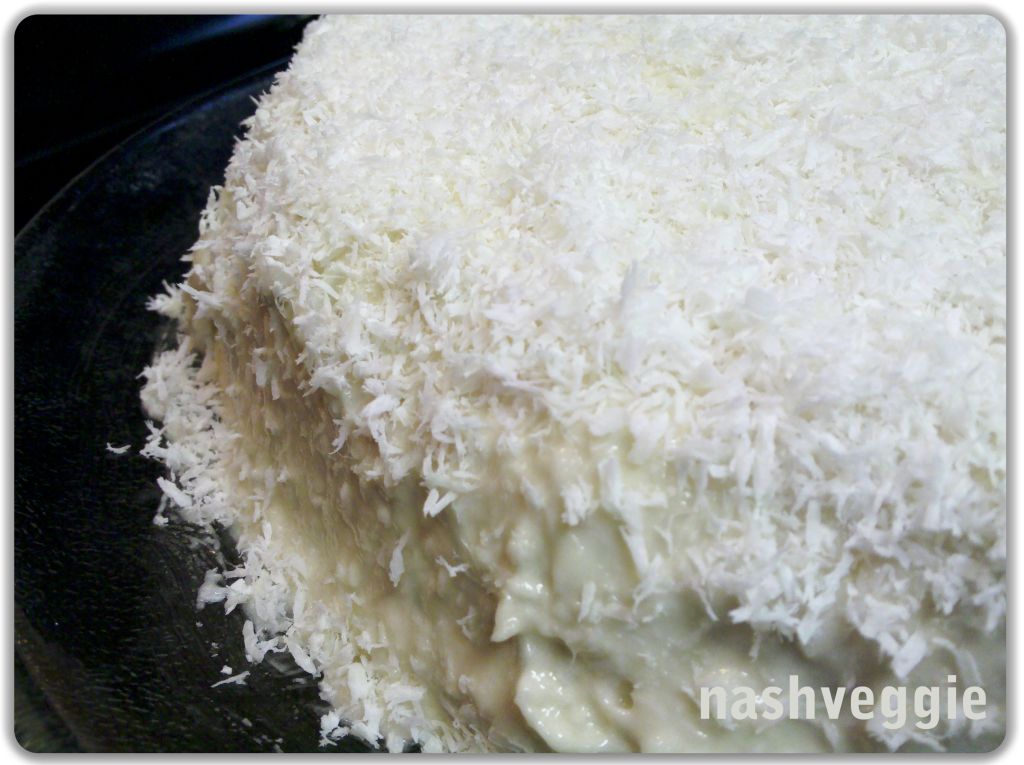 Coconut cake is one of my favorites as is coconut ice cream and coconut candy. I add coconut to many things I cook, sweet potatoes and cornbread being two. Still, coconut cake gets me everytime. Mrs. Nashveggie made a delicious coconut cake this week and after raving about it on Twitter requests came in for a recipe. Many know I'm not a recipe person but Mrs. Nashveggie is. She has quite a few of her own and uses others from time to time. So here's the recipe for a delicious vegan coconut cake. It's perfect for a warm evening. This recipe makes a three-layer cake. The image above is a single round layer. I didn't want to over-indulge.
Mrs. Nashveggie's Vegan Coconut Cake
1 cup Earth Balance orignal, softened at room temperature
2 TBS egg replacer combined with 1/2 cup of water
1 1/2 cup vegan sugar
1 cup unsweet coconut
2 1/2 TSP vanilla extract
1 cup unsweetened soy milk (you can use almond milk but it may lend an undesirable flavor)
1 TBS vinegar
3 cups  all purpose flour
1 1/2 TBS baking powder
1. Preheat oven to 350. Grease, flour three 9″ round pans,
2. Beat earth balance, sugar, vanilla and coconut with a mixer. When combined mix on high until fluffy for about 3 minutes.
3. Combine baking powder and flour in bowl. in a second bowl mix soy milk, vinegar and egg replacer mixture. Add dry ingredients and wet ingredients slowly to mixer bowl a little at a time each, alternating each until all is added. Stop mixer and scrape sides of bowl to be sure all of Earth Balance and ingredients are mixing. Pour batter into pans.
4. Bake for 25 minutes or until toothpick is inserted into middle of cake and comes out clean.
5. Cool in pan on wire cooling rack for 30 minutes. Flip pans to remove cake and cool for an hour.
Buttercream Frosting
1 cup Earth Balance original, softened at room temperature
1 TSP vanilla extract
3 cups confectioners sugar
2 TBS water
2 1/2 cups unsweetened shredded coconut
1. Cream Earth Balance with mixer at high speed until smooth, about 30 seconds.
2. Add water, confectioner's sugar and vanilla extract and mix again on low for 30 seconds scraping sides of bowl to be sure all is combined. Whip at high for 2 minutes until fluffy.
3. Add 1/3 cup of coconut and mix with spatula to combine.